Spraying & Spreading
Crop Spraying
We are equipped with the latest in Airtec© application technology. Spray droplets are entrained into the crop in a curtain of air which helps the Airtec sprayer cut drift to just 10% of that from conventional sprayers.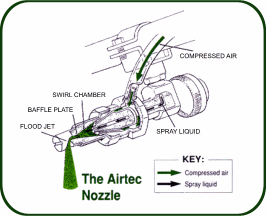 Airtec Advantages
Airtec

V

Conventional
More efficient and accurate use of pesticides
Inefficient chemical use and less profits.
Maximum versatility. On the move droplet spectrum changes. LERAP without nozzle change
Frequent nozzle changes needed.
Faster, safer working.
Greater safety worries and more downtime.
Greater spray window and better timing.
Frequent re-filling and lower outputs.
More fields per day.
Less available spraying days
Satellite Guidance System
Our sprayer is equipped with GPS navigation for accurate bout applications in all field conditions, ideal for pre-emergence or grassland work.
Specialist SprayingServices -
Amenity, Paddock and Game Strips
We can provide ATV mounted boom sprayer for difficult access or smaller areas. 1m shield sprayer for barrier spraying or areas where drift must be kept to a minimum Rotowiper – applies chemical only to target weed in no-spray areas such Stewardship / ESA etc.
All of our Operators are professionally certified: NoRSo; BASIS LERAP; NAAC.
Bulk Fertiliser and Lime Spreading
6t Bredal spreader with high capacity spreading disc system.
12 – 36m spread possible depening upon materials
Complete service options of Supply, Deliver and Spread